There is a massive hype brewing for the new LG rollable tv that premiered at the CES 2019 earlier this year.
Thank you for reading this post, don't forget to subscribe!
These highly awaited devices, which LG is manufacturing like hot buns, would be right around the corner.
We heard about the rollable tv for the first time at CES and we could admire it at work during the Milan Design Week. It's unique, hi-tech and its looks and feel are pure avant-garde. All in all, we feel this may be LG's next big hit.
Nowadays the trend seems to be heading toward ginormous tv screens that offer spectacular resolutions, up to 8K, LG's bold idea was to exploit the passion for  foldable screens that has taken over the smartphone market and apply it to the tv manufacturing industry.
Rollable tv, the CES 2019 super star
LG was one of the key protagonists at Las Vegas for the CES 2019.
And its rollable tv more than anything had caught the interest – and praise – of audience and critics alike.
The new OLED tv, code name 65R9, won several Best of Show awards that broke a new record in LG's long list of triumphs.
This tv has several cards up its sleeve which we could only glimpse in Vegas. First and foremost, it's the kind of device that can be matched effortlessly to any furniture or home design – but that's just the tip of the iceberg.
Owing to its rollable (hence the R in the name) technology, the tv can be rolled down when not in use. Thus minimizing its size and allotted space, and allowing new exciting solutions for your home entertainment.
But what's the secret of LG's rollable tv and why consumerswere (and are) in such a hoot to get their hands on it?
An extremely high quality, immersive experience
Let's start with saying that the home entertainment market has grown highly sophisticated in recent years.
Contents are more and more spectacular and consumers need a technology that can do it full justice.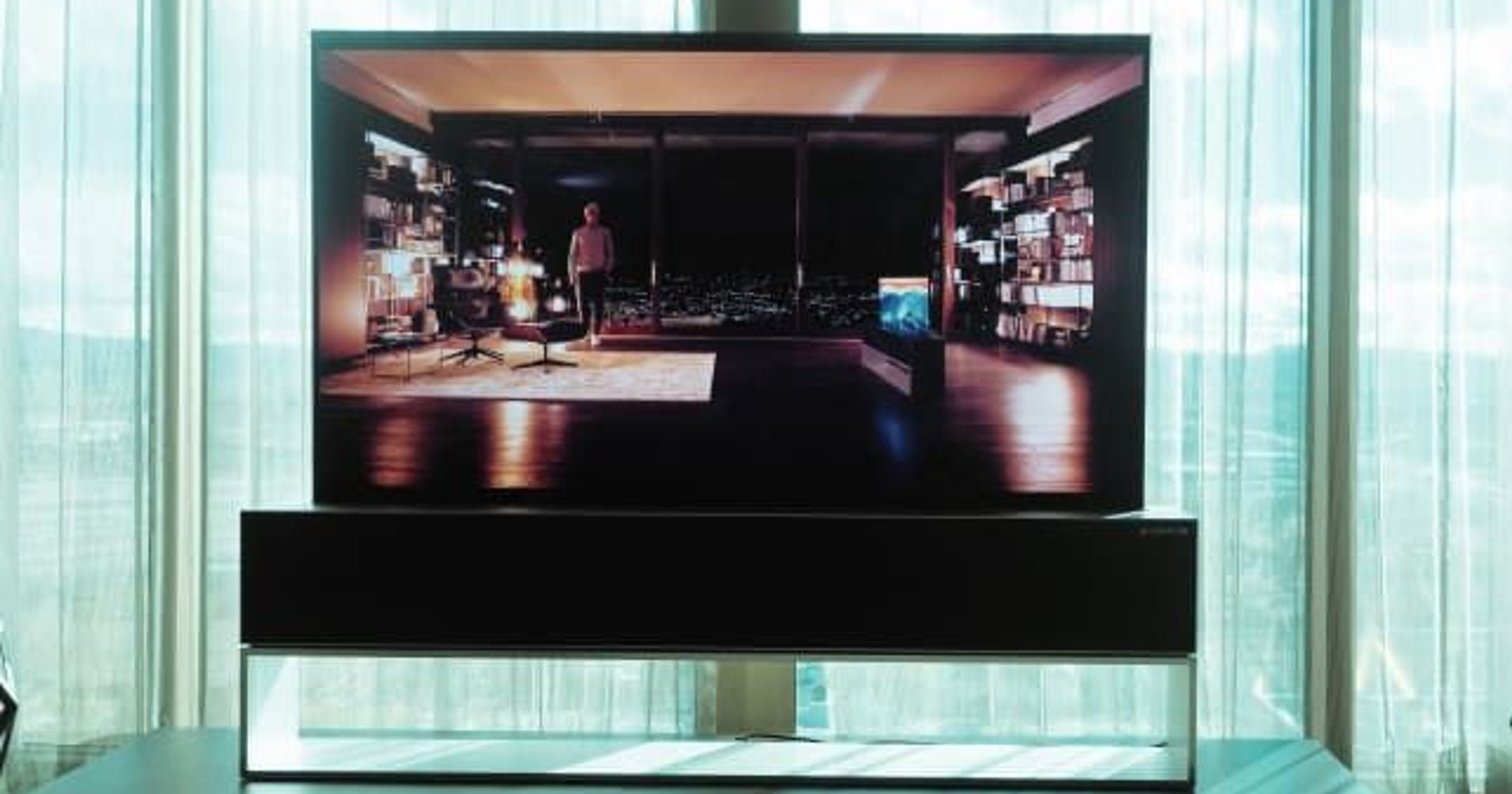 At the same time, the home users feel a strong need to get totally invested in what they're watching or listening. The home entertainment must not be second to the theater experience.
Hence the need for tv that reinvent domestic space,  without sacrificing the image definition and the richness of colours.
LG has taken the challenge to yet another level. The rollable tv is really a hit, as it doesn't just share the functionality but also the allotted space of different kinds of devices, all-in-one.
LG OLED TV R, rollable tv for multiple purposes
The new rollable tv is going to offer a wide array of performances.
There's three different modes in which you can use it, making it one of the most practical yet versatile products out there. This was the secret behind its glorious success in terms of awards and hype.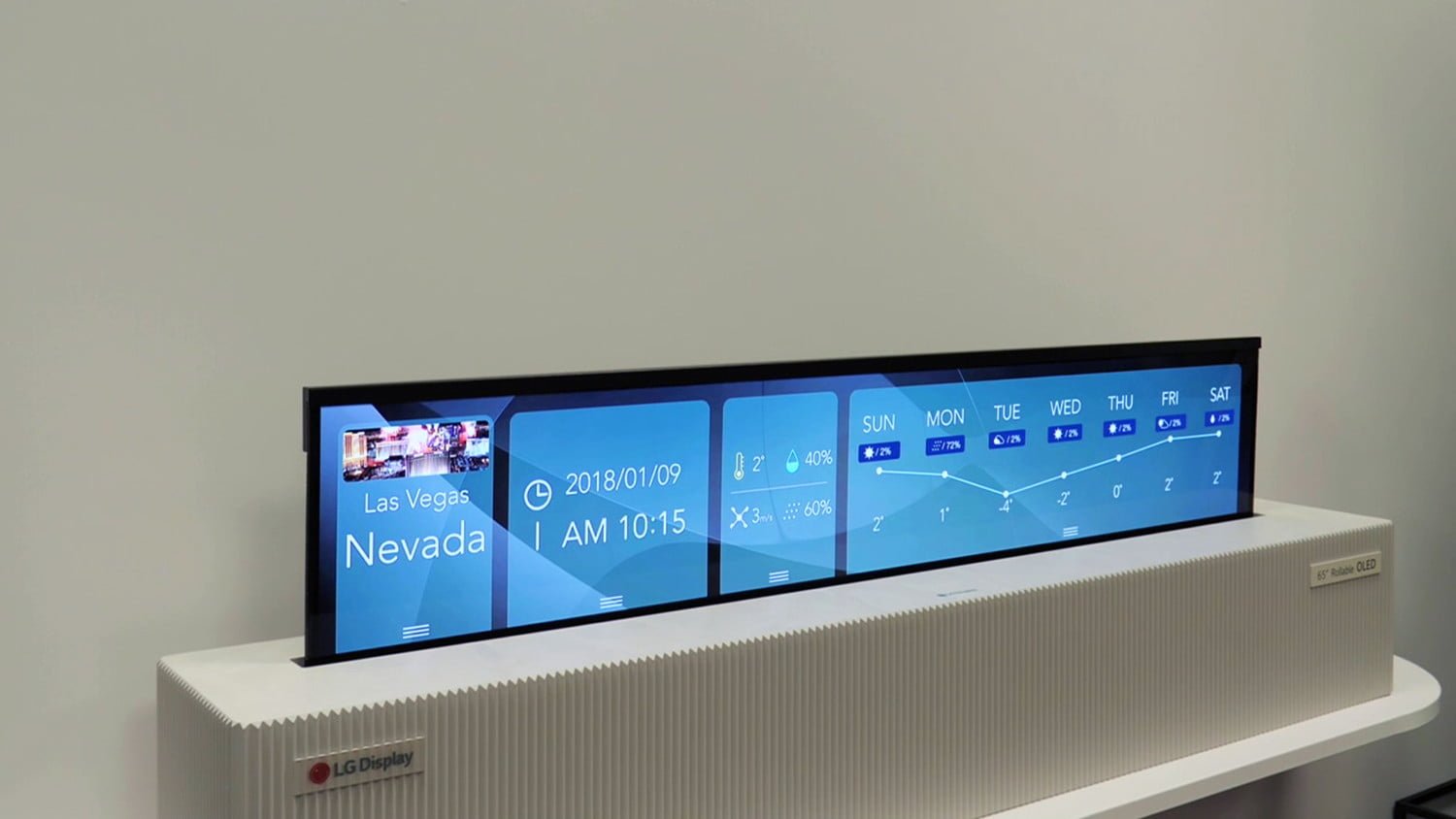 In its Full View Mode, the LG OLED TV R can easily stand its ground against competitors of any brand.
With a second generation Alpha 9 processor, this tv has advanced smart functions and a spectacular graphic rendition.
The contrast is perfect with almost theater-like blacks and its depth makes it one of the most interesting home tv available.
Also it's fully compatible with virtual assistants like Alexa and HomeKit.
In its Line View mode, the rollable tv can be rolled down partially leaving just enough room for those content that don't need a full widescreen.
For example, you may display weather forecast or time. Alternatively you can reserve this mode to displaying your own multimedial contents like photo slideshows and playlists.
Last but not least, the Zero View mode turns the tv display into a powerful music player. The display it totally rolled up leaving just the audio reproduction, which takes full advantage of the Dolby Atmos at 4.2 channels to create a relaxing and immersive experience.
As much as the rollable tv may be a hit, however, LG isn't breaking a sweat. Their next goal is bringing on the market tv with Artificial Intelligences – we'll get back on that in a future article. Stay tuned!
This post is also available in:

Italiano