Maybe you don't use it a lot. You know that it exists because you heard to talk about it but you never looked on the Pinterest wall. Well, lately the social of the Inspiration board has changed and there are interesting news if you are looking for creative ideas. Let's find out it together.
Thank you for reading this post, don't forget to subscribe!
Pinterest, its history
San Francisco, California, home of the Silicon Valley. It was december of the 2009 when for the first time it appears between the downloadable apps Pinterest. As well as Instagram, it is a social network focused on sharing of pictures, videos and every kind of images. Its name comes from Pin with Interest. Basically, when you are on your home and you see a picture that you like, you can "pin it" and save it in a wall.
The contents saved can be connected to a link with further explainations, like it can be for a receipt or an outfit, but not only. The main thing of this social is the sharing of them on other socials like Facebook, Instagram or Twitter.
Its first 10 years
During the first 10 years of life, Pinterest was able to affirme itself as an excellent social where you can be inspired to create events, to dress up, to learn to do something homemade.
The most beautiful and interesting thing is that the images posted on this social can be saved. Infact, we can find many interesting contents to create wallpapers for laptop or mobile phones, or even explicative images to learn new languages.
Everyone can share something and link the image to something. Like this it's used mainly by travel bloggers, fashion bloggers and food bloggers. This function of sharing helps them to increase the views and the interactions on their websites.
The algorythm of Pinterest has changed
As well as many of you already know, the social networks are focused on specific algorythms that drive them to understand which are the most loved profiles and what topic create about an image according to the user likings.
The algorythm of Pinterest isn't different, but right in the june of the 2020 it changed and with it even some functions for the usage of this social, especially for who uses it as a showcase for re-sharings or product sale.
If you use Pinterest for your business infact, this social works like a search engine, focused on the images. For this reason, since the last june it's important the frequence with which you share similar contents or about the same topic.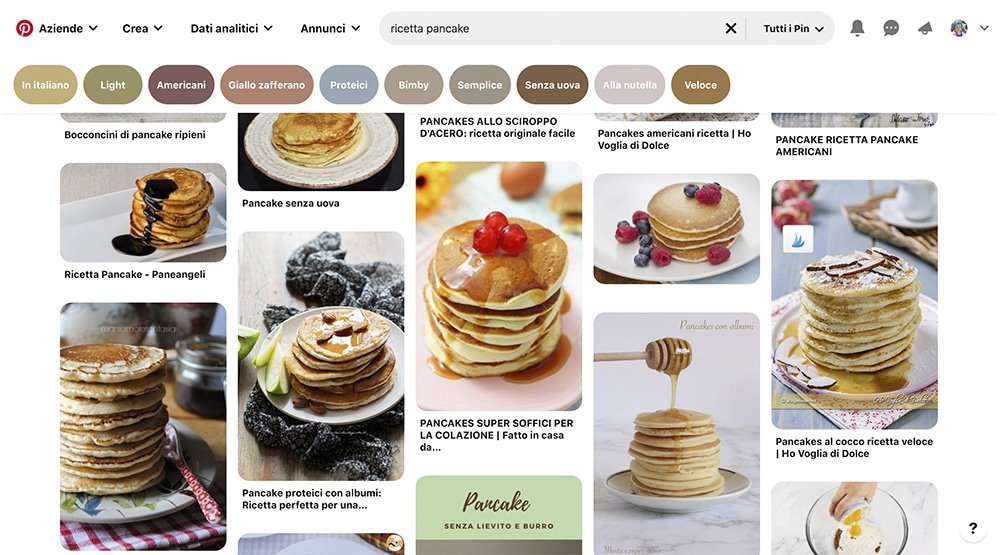 Before of it it was enough to publish a picture that came for example from an article of your blog where you talk about cooking. One day you publish the receipt of the pasta with sardine, the day after the granny cake. Now, the algorythm awards you if you mainly talk about past, unless that only about sweets.
The algorythm compares the users
Now, on Pinterest, the contents are organized by the new algorythm that autonomously calculates which are the best and most organized contents creators and they deserve more visibility.
Basically if you use this social only to take inspiration your profile won't be seen by no one, but if you publish and you follow a precise idea, the algorythm will put you on the top of the ones that deserve to be seen, visited and "pinned".
The algorythm of Pinterest has the purpose to make the experience pleasant for the users that are looking for informations. If it thinks that your contents aren't good and are useless, and they don't bring to any existent link, it autonomously obscures them. It doens't matter how much you will publish, for the other users you won't exist.
This helps you a lot even if we talk about the pirate links or the empty ones, that can even bring virus inside pcs and mobile phones. At the same time it penalizes who can't realize quality pictures for their articles or who sells niche products.
How does the algorythm work?
The reasons for which the algorythm might think your contents aren't good are many. One between all, your pictures have a low resolution or your images aren't copyright free.
A whole other story is the one of the keywords. As well as Facebook, Instagram and Twitter there are the hashtag, here on Pinterest it is important to add to an image a great text written with keywords, which means by following the SEO. This is a wrong setting of the same profile that can penalize you.
But not only. Like we said before, publish too much or don't publish at all are other two things that the algorythm recognises as negative.
With the changed made in june, the algorythm of Pinterest had even a further essential change. Infact, if until last year it was suggested to create at least two different pins for every article and to share each one of them on all the dedicated walls, now this strategy might let the algorythm thing that you are creating spam, so it penalizes the profile and the contents.
The same pin published many times will be penalized by the algorythm, so let's remember to stay upgraded about the usage of this social and to follow the rules in order to make your sharings functional.
This post is also available in:

Italiano