"It's impossible that our future is to interact with the fingertip on the six inches display of the smartphone or typing on the keyboard. Too limited and limiting". It's Bruno Zamborlin to say that while thinking to a more interactive and inspiring future. A future that wants to turn all the surfaces into touch screens. This thanks to his incredible new technology, hypersurfaces.
Thank you for reading this post, don't forget to subscribe!
A technology that will revolutionize our way to live. Hypersurfaces will be applicable to every kind of surface. The whole house would become a big touch screen.
By applying the Zamborlin's technology on the floor, for example, we will be able to understand if to walk on it will be us, the children or maybe the dog and the cat which are sneaking into the kitchen.
Bruno Zamborlin

Hypersurfaces was born by the mind of Bruno Zamborlin, an italian man that, for ten years, is living in London. Zamborlin, graduated at the Ircam of Paris, did then a master degree about artificial intelligence and interaction, sector on which he could better give life to his ideas.
Already for a while he was planning a way to make every object, both if it is old or new generation, an interface which helps us to interact with a system of artificial intelligence.
At the beginning he founded a startup Mogees, which gives life to sounds and musics, right thanks to the same concept. Now, with Hypersurfaces, Zamborlin claims to be able to change the world, by turning every surface into a touch screen, letting us able to interact with the house in a way never saw before.
How does Hypersurfaces work

Hypersurfaces is just a small microchip, equipped with sensors that feel the vibrations, by transmitting them to an algorithm that understands them and their meaning.
The surface equipped with the microchip will understand the touch of our fingers, translating them in a command.
"The Hypersurfaces' algorithm represents the best that we can wonder about the deep learning.
Currently we are able to make some actions that 3 or 5 years ago were unthinkable about the technologies where there is the smell of an artificial intelligence.
One day it will be possible, for example, to avoid all the bottons and the switches from the car's doors or from the airplane's cockpit".
To make those objects "smart" though they have to be implemented with the technology hypersurfaces, so at the moment the Zamborlin's creation is directed to car and construction's companies, to convert tables, cars' doors, walls, furnitures, etc, into touch surfaces.
Possible applications
Hypersurfaces seems to come right from a science-fiction movie. Its possible applications, infact, are incredible and basically infinite. We could switch on the kitchen's lights just scrolling a finger on a shelf.
Switch on the television by typing the sofa's arm. Ask to the dining's table if we forgot the keys on its surface. We could turn up the volume of the stereo by turning an invisible knob or ask to the kitchen's surface what is leaning on it.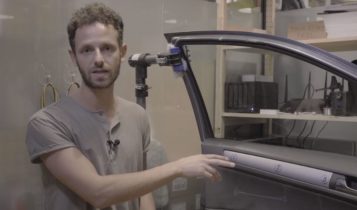 We could know it to enter nightime is our son or a thief. We can interact with our home as it is a live being. With Hypersurfaces every object becomes touch, both if it is made by wood, plastic or fabric.
A combination of artificial intelligence, deep learning and advanced sensor which give life to something amazing. Every object becomes smart, every thing becomes within reach.
The future within reach
Zamborlin dreams to make the future closer for years. Hypersurfaces could be the right bridge toward that future. It's gonna take few months before to see the products implemented with Hypersurfaces on the marketplace.
There are already many multinationals which are interested to the technology that promises to enter into our houses by revolutioninzing them. We have to wait only a bit more, the future is right behind the doors.
This post is also available in:

Italiano